EcoMobility World Festival 2017
1 – 31 October 2017, Kaohsiung
---
In October 2017, the Kaohisung City hosted the 3rd EcoMobility World Festival. The Festival was a live demonstration of how cities could take a bold step to create a forward-thinking urban transportation culture through ecomobility. The historical Hamasen neighborhood was transformed into a dedicated space for ecomobile modes of transport such as walking, cycling, public transport, shared vehicles,and light electric vehicles.
The Festival, held every other year in different cities, is a mise-en-scène of the future of urban mobility in a real city, with real people, in real time. It is an avenue for city governments to experiment with creative ecomobile solutions to create more livable cities. It also gives residents the opportunity to experience how traveling through integrated, socially inclusive and healthy transport options can improve their quality of life.

Hamasen or Hamaxing is a historical urban area of Kaohsiung City. It is located in the southern end of the Gushan District between the foot of the famous Ape Hill and Yancheng District, also a historical quarter. In 1908, the Japanese first built embankment at this area which paved way for modernization in Kaohsiung. With the new embankment, the first modern city street and the first passenger train were developed in the beginning of 20th century. Thus, Hamasen's name was derived from the Japanese name (濱線), which literally means beach railway line. It represents the two railways that passed through this area.
Hamasen houses the oldest developments and institutions in Kaohsiung city- the first modernized city street, the first passenger train, the first post office, the first police station, the first city government office, and many others 'firsts'. After 1920, the strategically positioned railway and harbour did not just develop the fishing industry but also raised Hamasen's profile in the political and financial epicenter.
Today, although the railway lines are no longer operational, it still shapes the historical character of the urban landscape. The streets of Hamasen still portray the rich cultural heritage and stories of Kaohsiung. Most importantly, it is known to be the best location where one could enjoy the majestic sunset and breezing wind.
Building on Hamasen's reputation of being the 'First' in Kaohsiung city, it was the first area in Kaohsiung to pioneer an ecomobile living environment. The Hamasen district of Kaohshiung City became the spotlight of the EcoMobility World Festival 2017, whereby the district was closed to private vehicles for the entire month of October 2017 and opened only for ecomobile forms of mobility, namely walking, cycling, non-motorized vehicles and public transports. Hamasen was selected due to its rich historical heritage and diverse urban environment.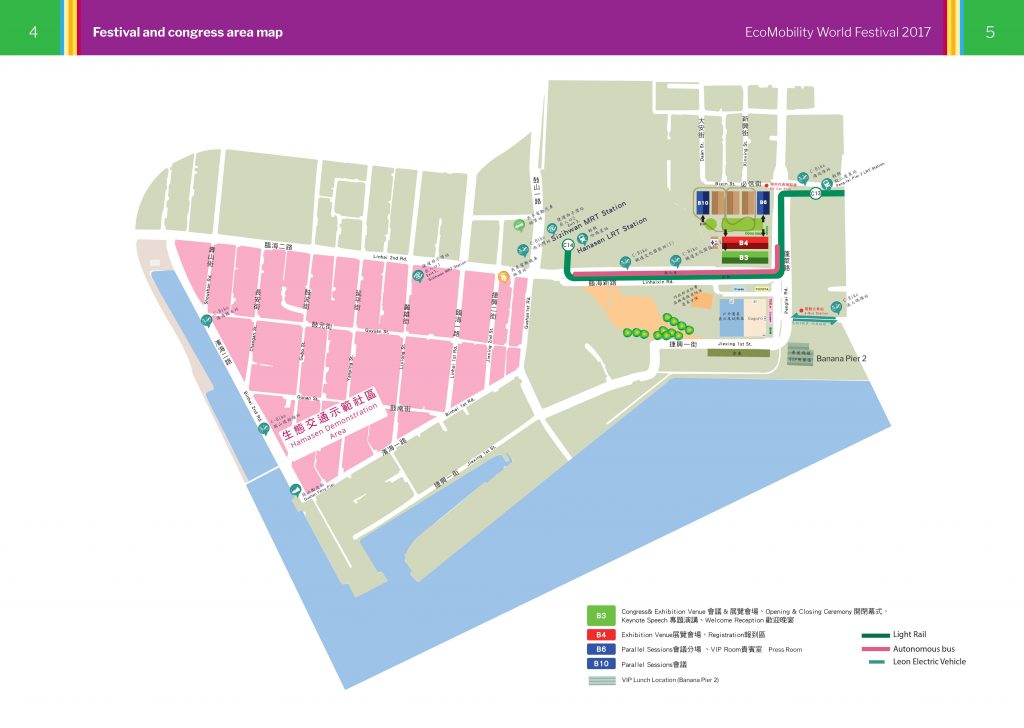 EcoMobility Festival & Congress Location